I'm currently revamping my website, so please be patient while I re-add old content.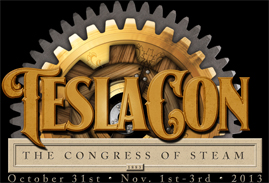 In keeping with the Congress of Steam, this year's theme/story for TeslaCon, I have organized three panels that will focus on LGBTQIA (lesbian, gay, bisexual, transgender, queer/questioning, intersex, asexual) issues in the steampunk community under the name Queer Cogs Caucus.
Friday, October 1st ~ 2:30-4pm
LGBTQIA Issues & Steampunk
Friday, October 1st ~ 2:30-4pm
Panelists: Nick Picard, Diana Pho, Ashley Rogers, and Scott Velasquez
Panel discussion with an emphasis on how LGBTQIA issues intersect with other identity categories in steampunk culture, cosplay, creative objects.
Saturday, October 2nd ~ 10-11:30am
Steampunk LGBTQIA Literature
Panelists: Veronique Chevalier, Karina Cooper, Kevin D. Steil, and Austin Sirkin
Panel discussion with a mix of writers, critics (academic and non-academic) and will focus both on what's currently out there in terms of literary representation of queer people.
Sunday, October 3rd ~ 11:30am-1pm
Steampunk & Trans*/ Gender Non-Conforming People, Characters, & Cosplay
Panelists: Jason Bush, Lisa Hager, and Ashley Rogers
Panel discussion on trans* and gender non-conforming people in the steampunk community, as well as literary characters and cosplay personae.